«Apparitions of Mother Mary to the world»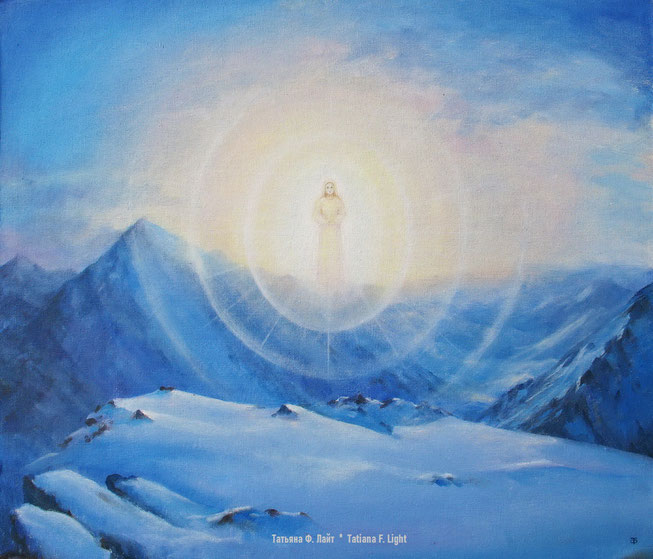 «Apparition of Mother Mary» 
Mother Mary has appeared before the world several times in the past centuries, ranging in guise from a humble peasant girl to a mighty Being of Light.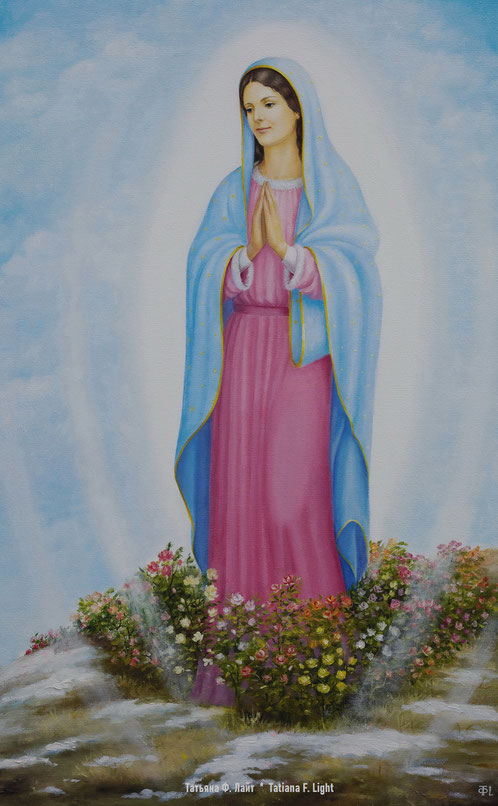 «The Virgin of Guadeloupe»
(Apparition in Mexico)  
   In the year 1531, the Virgin Mary appeared before an Indian man named Juan Diego as a young girl in Mexican clothing, and asked for a church to be built on the hill where she appeared.
   A Bishop who Juan Diego approached was initially doubtful and asked for proof of Mary's appearance. Mary provided it through a miracle. She asked Juan to climb a hill that was covered in snow and ice at the time and to gather some flowers.
  This he did, and he found fresh, fragrant roses blooming at the top of the icy hill. He gathered some in the skirts of Tilmàtli that he wore. Mother Mary helped him to pack them, wrap them in the shroud, and bring them to the Bishop.
  When Juan Diego laid the flowers before Bishop's feet and those of his retinue, on the inner side of the Tilmàtli they saw the image of Mary's face.
  That image of Mother Mary was kept in the small church built on the Mountain Tepeyacac. In 1976 a basilica was rebuilt there, in which the perfectly preserved shroud of Mary continues to be displayed.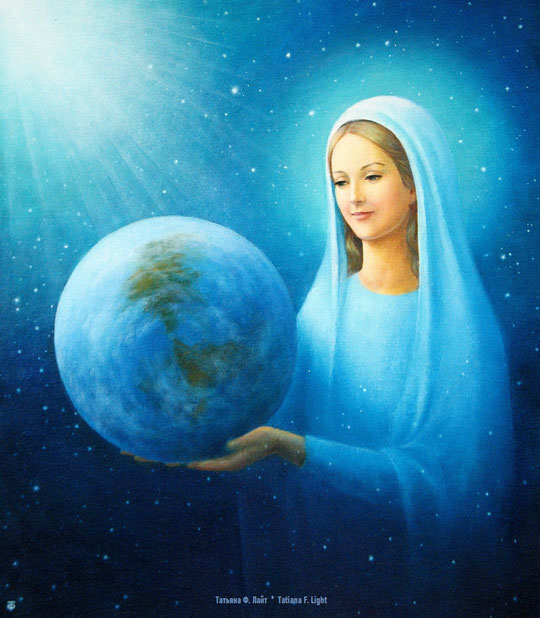 «Queen of Heaven» 
   (Аpparition before Catherine Labouré in France)
   On the 27th of November, 1830, the Virgin Mary appeared before a nun named Catherine Labouré in the guise of a woman holding a globe in her hands. This happened at the Sisters of Mercy house on Rue du Bac street in Paris.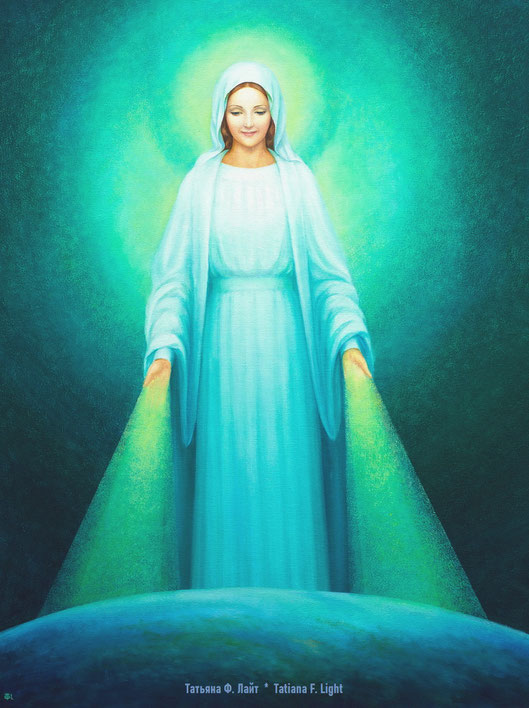 «Queen of the World»
   Catherine Labouré saw the Virgin Mary standing on the Globe, with rays of sunlight coming out of her arms. Later, an oval frame appeared around her and Catherine heard a Voice instructing her: "mint a medal resembling this event… blessings will come upon those who wear it with faith in its miraculous powers".
   In 1832, with permission from de Quelen, the Archbishop of Paris, the medal was minted and called "The Medal of the Immaculate Conception".
  People started calling it the "Holy Medal," as a result of its healing and blessing properties, and the wonders of serenity and prosperity that it produced.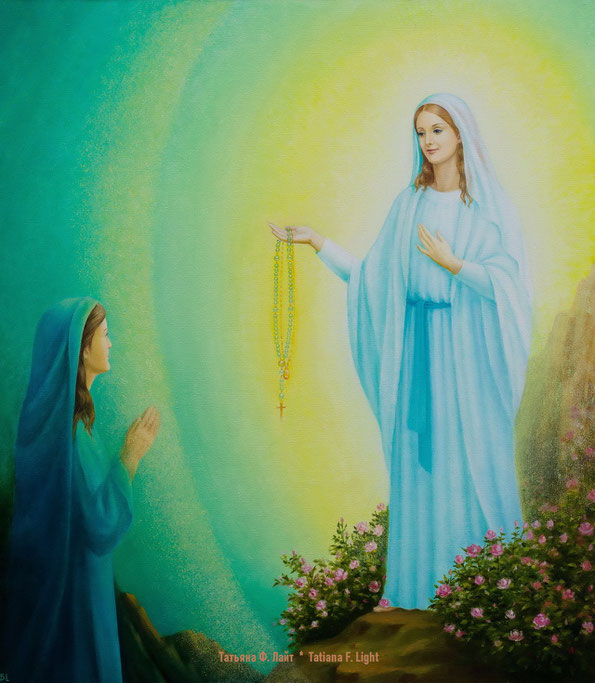 «Immaculada Councepciou»
(Аpparition before Bernadette Sobiróus in France) 
  A Miller's daughter called Bernadette Sobiróus was chosen by Mother Mary to persuade people to repent.
  On February 11th, 1858, a smiling lady in a glowing golden cloud appeared before the astonished girl. The lady held a rosary and a cross in her right hand, which also glowed with a golden light.
   Mother Mary visited Bernadette a total of 18 times. During one of her visits, she said: "I am the Immaculate Mind". On her 9th apparition a spring gushed from the ground.
   Since then, thousands of pilgrims come to this holy place, which has come to be known as the healing water of Lourdes. The Spring is blessed with a unique healing power, and many who have come for ablution with faith and deep adoration to Mary's heart have been miraculously healed.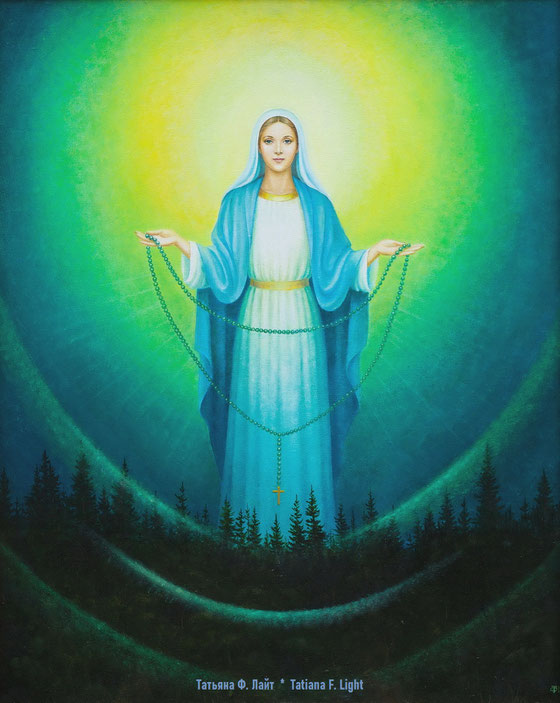 «Apparition of the Virgin Mary»
    In the twentieth century, Mother Mary began to appear on Earth before eyes of many people. She has appeared both before children and adults, and sometimes before the eyes of thousands of people at once. She has urged people to face the Light and to repent of all evil acts, unholy thoughts and impure desires. She has repeatedly asked us to cleanse our being through prayer and fasting, so as to have our bodies more open to be filled with light.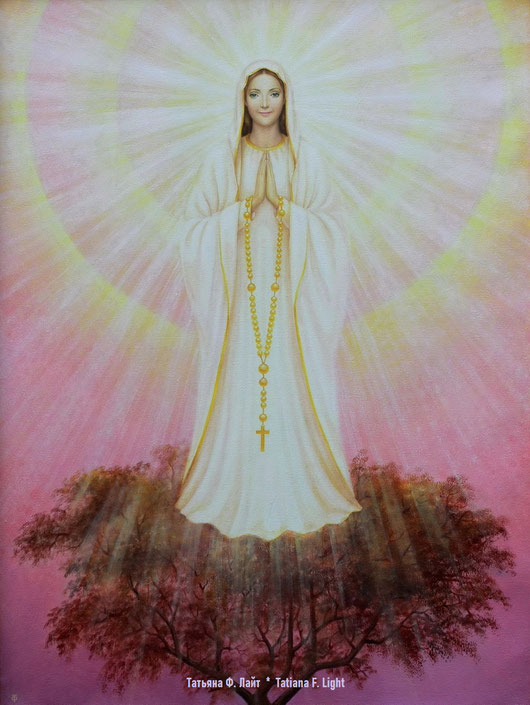 «Our Lady of Fatima»
 (Apparition in Portugal) 
  On the 13th of May, 1917, Lúcia dos Santos and Francisco and Jacinta Marto saw a figure in a globe of light appearing at the top of a tree. She was dressed in a shining white robe and veil, fringed with gold and flowing down to her feet. She was holding a rosary in her hands beside her heart.
   Mother Mary asked the children to come to this tree every thirteenth day during the course of five months. She told the children secrets they needed to keep, which were prophecies of upcoming war and terrors that would come upon the planet if people did not change their way of life.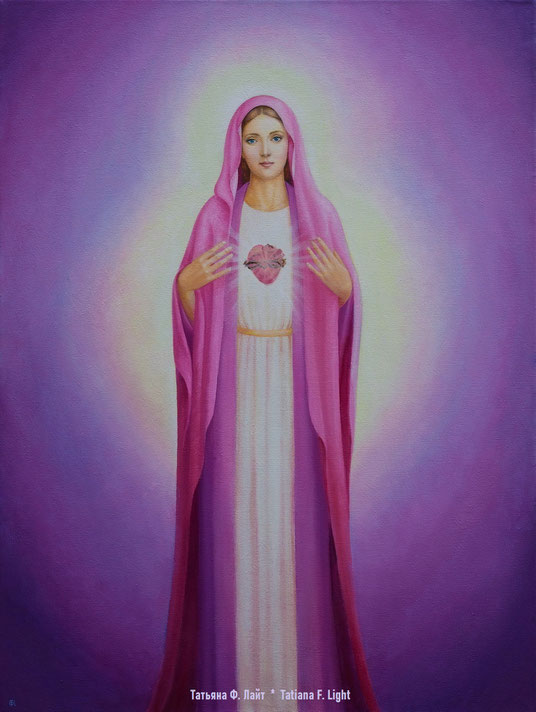 «Pierced heart»
(Apparition in Portugal) 
  Over the course of 5 months, Mother Mary gave a number of children in Portugal a series of visions of what would come upon world if people failed to change their ways and repent before God.
   The first vision was given in June, 1917. The children saw Mother Mary's Immaculate Heart pierced by a Crown of Thorns created through humanity's sins. In the revelation, Mother Mary warned about the upcoming October Revolution in Russia. She asked the hierarchs of the Catholic Church to perform the Blessed Sacrament every first Saturday of the Month, and to pray the Rosary for the dedication of Russia to her Immaculate Heart.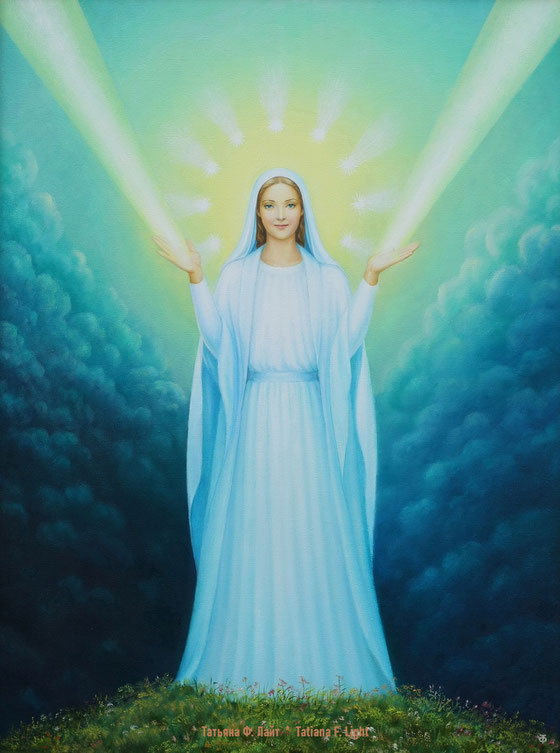 «Wonder»  
(Apparition in Portugal) 
   Mother Mary told the children that on the 13-th of October a miracle would be performed, and on the appointed day 70 000 people gathered around the place she had specified.
   The sky was dark with clouds, and it was raining. The Virgin Mary appeared and said that people needed to change their lives, beg for the forgiveness of their sins, and never insult God anymore thereafter.
   Following her instruction, she opened her palms and sent rays of sunshine into the sky. The clouds disappeared immediately, and the Sun shone upon the people standing below.
«Sign of the Cross»
(Apparition in Portugal)  
   Shortly after the cloud miracle, Mother Mary was seen high in the sky, standing with Saint Joseph and holding the baby Jesus in her arms.  Jesus blessed the world by giving the sign of the Cross three times.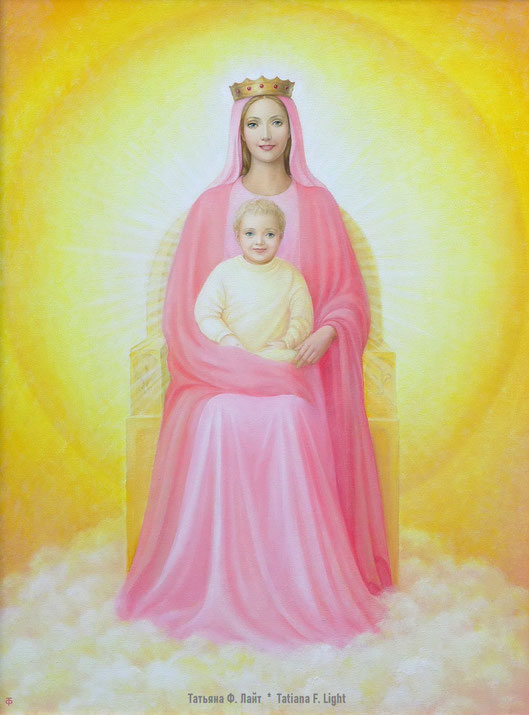 «Queen of Heaven and Earth»
(Apparition in Portugal)  
  During Mary's next appearance another miracle occurred. People saw Mother Mary with the baby Jesus sitting on the Throne of Heaven and Earth. The Sun was shining blindingly bright. Suddenly, the sun was dimmed, began to spin and roll, and change in color. 
   When the Sun reached a terrifying speed in its spinning, it began to eject flames and fire and started to descend towards the Earth. This vision was accompanied with great heat, and was said to resemble the Apocalypse. Many people fell to their knees in prayer, until eventually the Sun stopped abruptly and returned to its usual place and size.
   Unfortunately, the lesson given by Mother Mary was not enough to lead humanity away from a path of disobedience. People have failed to hear and heed Mary's call, and as a result there has been widespread war and destruction, more than 50 million lives lost in war and famine, persecution of the Church in Russia and in Europe, and the advent of Communist ideologies in the world.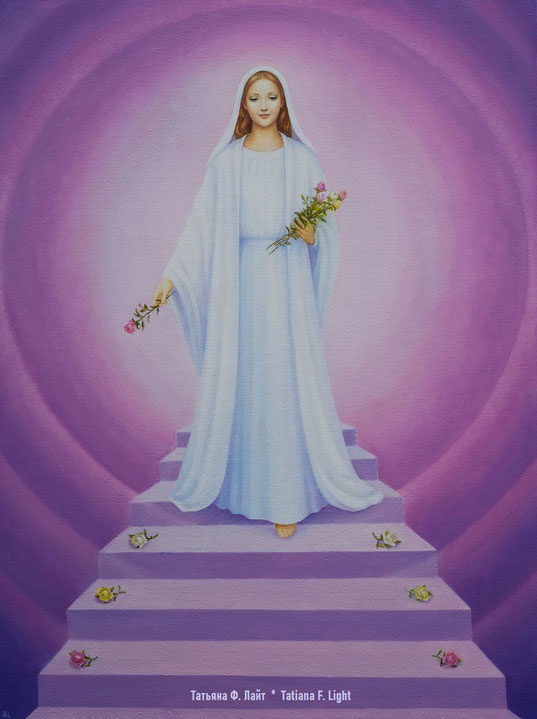 «The hour of mercy»
(Apparition in Italy) 
   In the period from November 24th, 1946 until December 8th, 1947, the Virgin Mary appeared 11 times before sister Peerine in Italy. In her calls she asked her to pray for the enlightenment of Russia. Mother Mary asked the nun to come to church on the 8th of December for the celebration of the hour of Mercy, which was scheduled from noon to 1 o-clock.
   On the appointed day, 10 000 people gathered near the church and prayed the rosary. Suddenly, around the roof of the church a light started shining and a stairway to the ground appeared, decorated with red, white and yellow roses. Standing on the stairs was the Virgin Mary, dressed all in white. 
   She asked people to attend the hour of Mercy every year, on the 8th of December at noon. Mary promised grace and blessings upon those who would pray for the whole hour without interruption. After delivering her message she was seen climbing the ladder, scattering roses along the way, and eventually disappearing into the light.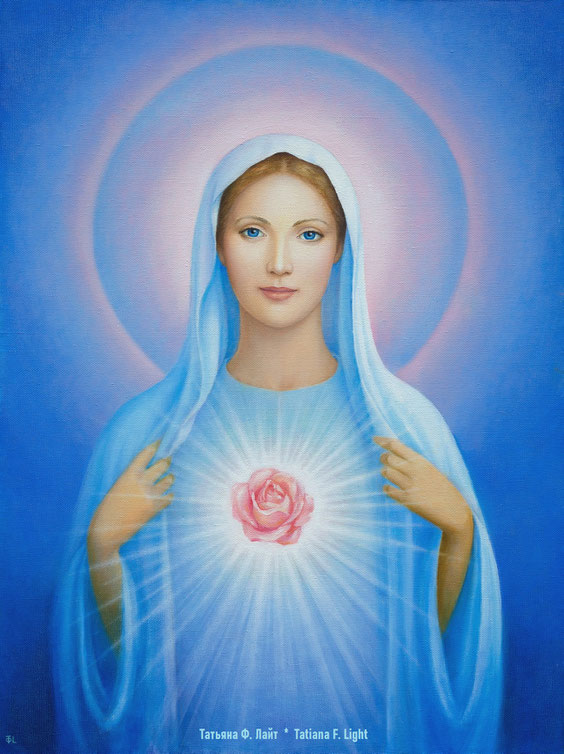 «Mystical Rose»
(Apparition in Italy in 1947)
    During the apparition in Italy, Mother Mary said: "I AM the Immaculate Concept, the Mother of all Graces and the Mother of my beloved Son, Jesus. I want you to know me as Mystical Rose.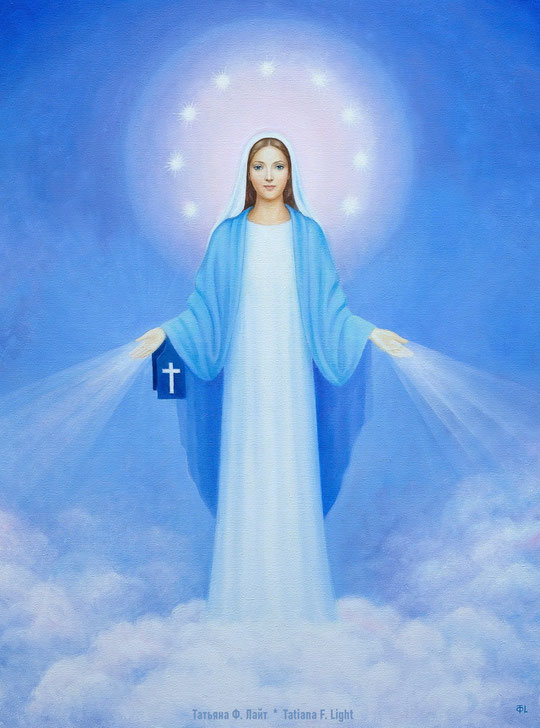 «Starry Virgin Mary»
(Apparition in Spain)  
   Between July, 1961 and November, 1965 Mother Mary appeared more than 2 000 times before eyes of 4 girls in a village called San Sebastián de Garabandal, located in the Cantabrian mountains in northern Spain.
   The girls were warned by an angel that on the 2-nd of July Mary would come before them. On the stated day, many people from villages in the surrounding area assembled and waited for Mother Mary's appearance. At 6 o-clock in the evening she appeared, smiling and shining with beauty.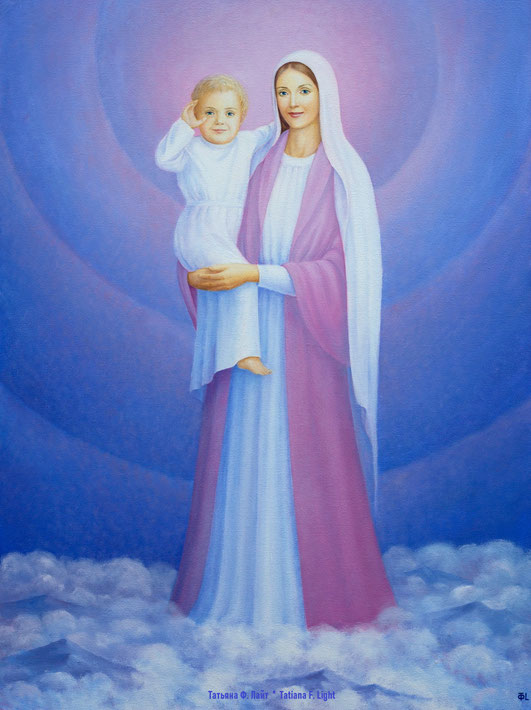 «Our Lady of Garabandal»
(Apparition in Spain) 
   During one of her apparitions, Mother Mary appeared before the girls with the baby Jesus in her arms.
   She urged humanity to lead a more righteous life, purified through prayer, sacrifice, penance and oblation. She warned that if people fail to change their ways, they would reap the consequences. Mother Mary said that Russia would turn to God and get on the righteous path.
   Over the course of four years, many people from all over the world visited the village to see the children as they spoke to Mother Mary.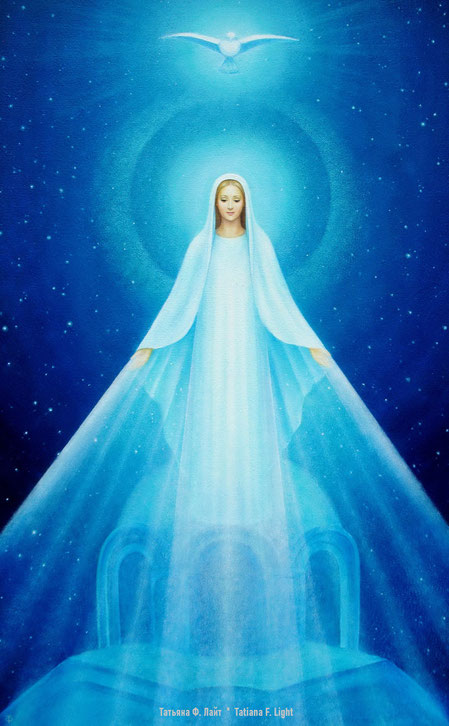 «Our Lady of  Zeitoun»
(Apparition in Egypt)
        For 3 years, from April, 1968 until early 1971, the citizens of Zeitoun, Egypt witnessed apparitions of Mother Mary above the Coptic church of the Mother of Christ.
     The Shining Queen of Heaven was seen soaring above the church with her appearances varying between several minutes and several hours in length. Sometimes giant shining birds ressembling doves would appear around her. 
     A white dove is a symbol of the energy of the Holy Spirit. Through this apparition Mother Mary gave humanity an insight into the upcoming Era of the Divine Mother and the Holy Spirit in the Age of Aquarius. Hundreds of people present at these apparitions reported to have been healed, and many of these cases were confirmed by medical professionals.
      Several thousand Muslims also converted to Christianity.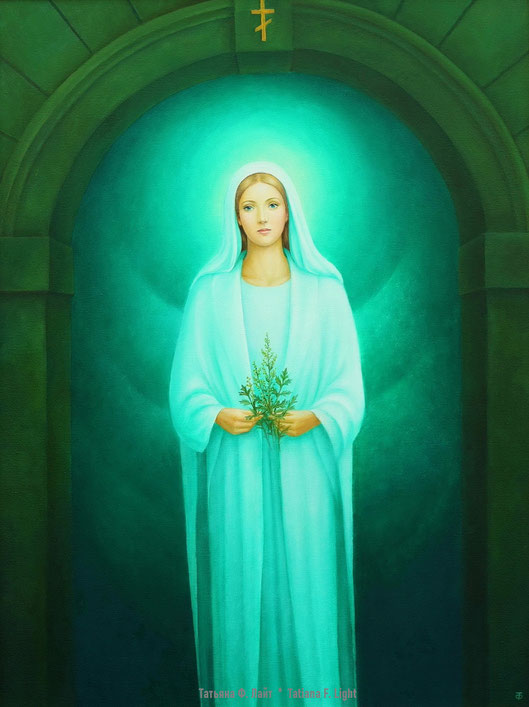 «Apparition of Mother Mary in Chernobul» 
   Hundreds of thousands of people witnessed the appearance of Mother Mary in the USSR in the spring of 1986. Right before the accident a Chernobyl, she appeared a number of times to an eleven year-old Ukrainian girl, who lived at the edge of the village in the tower of an abandoned chapel. Afterwards, people came there daily, hoping to see the Holy Mother. 
«Medjugorje»
     On the 24th of June, 1981, Mother Mary began to appear on the hills near the small city of Medjugorje, in Yugoslavia. 
      On occasion, up to 10 000 people would came to witness her apparitions. People that were present have said that she appeared shining with an ethereal light.
      Mother Mary started to appear before four girls and two boys between the ages of 10 and 16 years. She told each of them ten secrets concerning the future of humanity, which were to be revealed to Church authorities in due time.
     One of the girls, whose name was Mirian, said that the revelations were imminent and serious. In order to prevent the divine retribution, it would be necessary to invoke greater Light and call for the dissolution of negative energies. 
    Apparitions of Mother Mary is still going on. Until now, every month Mother Mary the Queen of the World comes to visit the people to help guide them to God.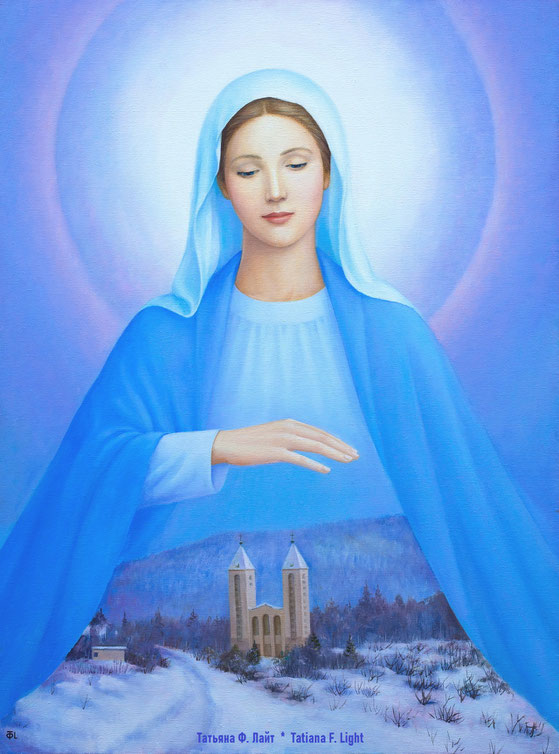 «Protector»
(Apparition of Virgin Mary in Medjugorje) 
   The Holy Virgin told the children that humanity had the power to prevent war and natural disasters through prayer, fasting, penance and the sacrifice of the ego to God.
   She promised that if humanity would find God, the Earth would enter a period of peace. War can only be stopped by inner peace, and people need to start by affirming peace within their own beings, so that world peace can begin to be realized.
«Common Prayer»
     In 1984 in Medjugorje Mother Mary said: «I would like the people to pray along with me these days. And to pray as much as possible! And to fast strictly on Wednesdays and Fridays, and every day to pray at least one Rosary: the joyful, sorrowful and glorious mysteries».
 MESSAGE GIVEN THROUGH IVAN DRAGICEVIC, AUGUST 14, 1984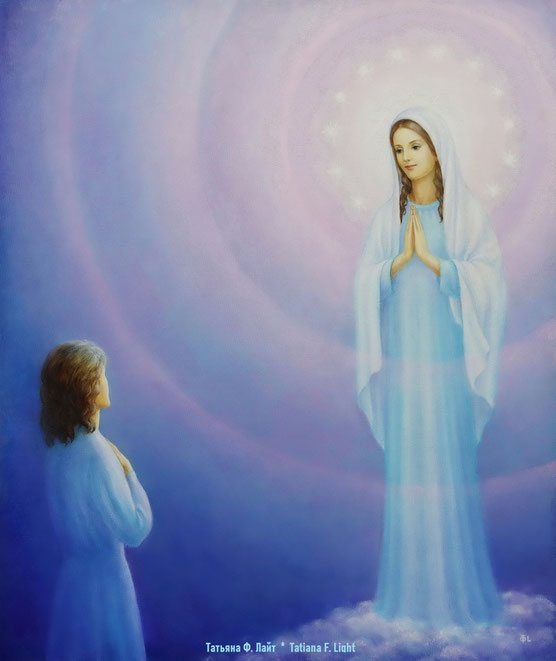 «The Great Idea»
In 1985 in Medjugorje Mother Mary said: «My dear children! Satan is so strong and with all his might wants to disturb my plans which I have begun with you. You pray, just pray and don't stop for a minute! I will pray to my Son for the realization of all the plans I have begun. Be patient and constant in your prayers. And don't let Satan discourage you. He is working hard in the world. Be on your guard».
MESSAGE GIVEN THROUGH VICKA IVANKOVIC-MIJATOVIC, JANUARY 14, 1985
«Тhe path of perfection»
In 1994 in Medjugorje Mother Mary said: «Dear children! I am with you and I rejoice today because the Most High has granted me to be with you and to teach you and to guide you on the path of perfection. Little children, I wish you to be a beautiful bouquet of flowers which I wish to present to God for the day of All Saints. I invite you to open yourselves and to live, taking the saints as an example. Mother Church has chosen them, that they may be an impulse for your daily life. Thank you for having responded to my call».
MESSAGE GIVEN THROUGH MARIJA PAVLOVIC-LUNETTI, OCTOBER 25, 1994     
    «Adoration» 
          In 1997 in Medjugorje Mother Mary said: «Dear children, pray with the heart to know how to forgive and how to be forgiven. I thank you for your prayers and the love you give to me».
   Message given through Ivanka Ivankovic-Elez, June, 25, 1997
«Union»
In 2008 in Medjugorje Mother Mary said:  «Dear children, today I call you to a complete union with God. Your body is on earth, but I ask you for your soul to be all the more often in God's nearness. You will achieve this through prayer, prayer with an open heart. In that way you will thank God for the immeasurable goodness which He gives to you through me and, with a sincere heart, you will receive the obligation to treat the souls whom you meet with equal goodness. Thank you, my children».
Message given through Mirjana Dragicevic-Soldo,  November 2, 2008
«Peace in the Heart» 
     In 2016 in Medjugorje Mother Mary said: «Dear children! Today, on this day of grace, in a special way, I am calling you to pray for peace. Children, I came here as the Queen of Peace and how many times have I called you to pray for peace. But, children, your hearts are restless. Sin is preventing you from opening yourselves completely to grace and peace which God desires to give you. To live peace, my children, is to first have peace in your hearts and to be surrendered completely to God and to His will. Do not seek peace and joy in the things of this world, because this is all passing. Long for true mercy and peace which come only from God; and only in this way will your hearts be filled with true joy; and only in this way will you be able to become witnesses of peace in this peaceless world. I am your mother and intercede before my Son for each of you. Thank you for having responded to my call».
MESSAGE GIVEN THROUGH JAKOV COLO, 25.12.2016
---